What is the best way of promoting a Podcast? You've bought the equipment, the fluffy mic cover, soundproofed the walls with egg cartons and created your masterpiece. But what're the next steps?
Podcasting has become a very simple way of giving a person, company, or brand a voice. Its intimacy is unique and the ability to listen any time of the day appeals to many given how busy our lives are. Recording a podcast is simple, the real success lies in how you promote the podcast online. There are endless things to check off the list once but through experience, concentrating on a few key points can help ease the pressure and give you a platform for success. As a digital content marketing agency, we get asked a lot about how to promote a new or current podcast channel. Given its popularity, we've put together some tried and testing tips on how we've helped promote podcasts for clients. We've also drafted in long-time podcaster Scott McInnes CEO of Inspiring Change and creator of the popular Face-Forward podcast. Scott speaks to leaders about their views on internal communications, employee engagement, change and their role as 'leaders'.
"There are three reasons people listen to a podcast: an unusual sense of intimacy, the ability to productively multitask while driving or working out and great stories–the power of narrative." – medium.com
1) Go Visual
Once you've finished creating your podcast, you need be thinking straight away of its promotion. Creating your own branded visual content for your various promotion channels is key. Scott releases a new podcast every 2 weeks for a reason; it gives a people a recurring date to remember and look forward to rather than  and and has no shortage of promotional material.
"If your podcast length averages 45 minutes, than you have have no excuse for a lack of content. Each on contains plenty of golden nuggets to create and release slowly by cutting into 30 second snippets to use for continuous promotion". – Scott McInnes, Inspiring Change
Since Facebook and Instagram don't allow mp3 clips, there has been a rise in companies creating visual snippets from podcasts. You can then share these as videos which have been proven to receive much larger reach than standard imagery. Scott believes that you should already be preparing for an episode release "at least one week before with imagery or 30 seconds clips to entice people listen and share your upcoming episode". – Scott McInnes, Inspiring Change
Headliner app is an online platform which can help. You can create 'Audiograms' which allow you to 'create a video up to 10 minutes long from a clip of audio to share on Instagram, Twitter, & Facebook'. You can choose from several paid packages but their free subscription is one of the best free packages we could find. Features include:
10 social videos per month without the watermark
Unlimited watermarked videos
High quality 1080 pixels
Share directly to social networks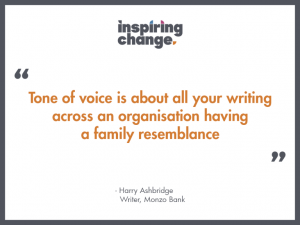 2) iTunes then the rest
This one is short and sweet. With 70% of all podcast listens occurring on iTunes / native iOS podcast app, it's really the go to platform to target on launching your podcast. Other applications like Soundcloud and Youtube appear to be insignificant in comparison to iTunes. The thought at the moment should be: Apple… then everyone else.
3) Leverage your guest's audience
If your podcast is in the form of an interview with a key industry influencer or expert, it's a no-brainer to take advantage of the interviewee's audience. Assuming your guest is open to promoting the podcast on their own social media channels, you should try to make it as easy as possible for them to share it on their social platforms. Some ideas to help and encourage your guest to promote the podcast could be:
Create snippets or key quotes from the podcast and use them alongside an image
Use graphic design software like Canva (or similar) to place them on top of an image that they can share quickly
Write a pre-made captions
Create imagery for them to share on their social media feeds
Give links of the podcast on various platforms
Below is an example reach-out email to a recent podcast guest. They have made it very easy for their guest to access it, listen, share, and have also included branded material for their guest to post. It's not super pushy and helps cut out any potential sticking points or delays in your content being shared by your guests.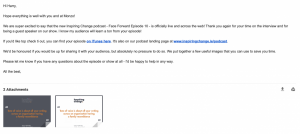 4) Celebrating your podcast milestones online
Don't forget to give your older podcasts some love too. Reaching a listener milestone is not something which should go uncelebrated. Likewise, reaching 10, 50 or 100 podcasts should also be highlighted. If an old podcast hits 5000 listens, thank your guest, followers and loyal audience for their time to help create or simply listen to what you have to say. If you've reached a half century of podcasts, your community will likely celebrate with you. It's also a chance to take a slightly different approach:
Live stream the podcast
Have an 'open floor' podcast giving your audience more control
Allow you to get interviewed rather than the one interviewing all the time
Scott recently hit 4,000 unique listens on his podcast and posted a simple image online celebrating with his guests and audience. A nice and simple way to say thank you to everyone that's helped his podcast grow.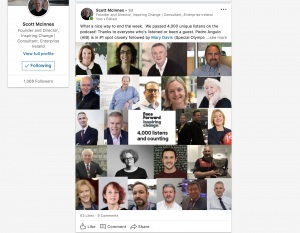 5) Leverage daily news
Keeping in touch with daily news often presents opportunities to re-share older podcasts. If you spot something that you already touched on in your podcast, post the news snippet, a line or two of your own thought and reference a link to your previous podcast.
eg: "Denis O'Brien recently lost his legal case on defamation of character. I had a great conversation on defamation of character in episode 98 of my podcast. Listen here for a more in-depth discussion."
—–
Whether you're new to the podcasting world or have already launched some of your own, it's important to take a content marketing philosophy to the overall process. There is work needed behind the scenes in terms of promotion but overall, the following process should give you a solid foundation in the success of your podcast:
Quality > Quantity… Always
Make sure you're solving a problem for your audience
Provide actionable insight your audience can take away and implement immediately
Hustle just as hard to distribute and promote it as you did to create it
Leverage your guest's audience by making it easy for them to share
Use the podcast to upgrade current or future blog posts you write
Thank you for taking the time to read.
– Marcos Keaney