Yule have to try this Christmas Ale! – #FridayFinds
To celebrate the festive season, this December's #FridayFinds will be Christmas themed. First up is our first and well overdue craft beer review. Introducing The White Hag's "Yule Christmas Ale". Ho ho ho!
Based in Sligo, The White Hag brewery have been on our radar for quite some time now, and have had a few killer beers on their list since launching in August 2014. The name always stood out to me as being a bit weird but it wasn't until recently that I discovered that there's a little bit of Irish history behind it. As their website explains, "Ancient Irish Mythology will tell you that The White Hag was a witch, a chameleon creature and even Mother Nature herself. We know she was all that, and more. A spiritual force, from and of the earth. The spirit of Ireland who shaped land itself, present in everything through the pure water of the earth.". Right so, that clears it up.. I guess!
We met Amy from White Hag at the Bite Food Festival a few weeks back and had a crash course in all that White Hag have to offer: from their heather ale to their chocolate milk stout. A really diverse range of flavours and styles from a single, relatively new Irish brewery. We were so impressed that we agreed that their Christmas ale would be first up on the list once December arrived.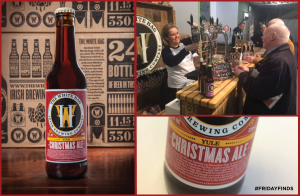 The Yule Christmas Ale is a spiced, holiday style ale that is rich and malty and is brewed with honey, fresh cinnamon and ginger. Not your typical ale! They've really perfected this one though and it's not as heavy as most Christmas ales and porters out there at the moment. It really does remind you of other seasonal spiced drinks and isn't too overpowering either. The ABV is 7.1% which is a bit over the average beer but you can barely taste it which is both a good and dangerous thing. You'll definitely be left feeling merry after a few of these!
If you'd like to find out more about The White Hag Brewery, you can visit their website here. And if you enjoyed this week's #FridayFinds – don't forget to share the love. Cheers!