Rascals Brewing Co. are giving students FREE craft beer this Friday!
Are you a student? Do you love craft beer? Then get yourself down to Rascals Brewing Co. brewery in Rathcoole this Friday afternoon to bag yourself a case of 24 beers. No joke – the guys announced it earlier today on their Facebook page:
*STUDENTS* This FRIDAY from 2PM, grab some friends, a car + head out to OUR BREWERY. We are giving the first 100 students a case of 24 beers each! (A full car of students means 120 free beers!) Bring Student ID and over 18 ID.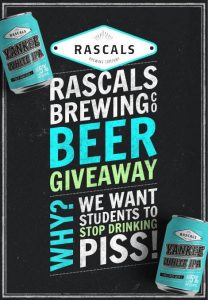 Sounds too good to be true, right? Fear not – there's honestly no catch. Just make sure you're part of the first 100 to show up to the brewery with your student card and age ID and they'll hand you a big ol' case of their delicious Yankee White IPA. Not bad! Get a car full of mates and you could be taking home 120 cans. They've even suggested it!
Don't have a car? Don't worry, you can get the 69 bus from Dublin city centre or it's just over an hour to cycle. Pretty sure free beer is worth the exercise! Click here for the Google Maps location: Rascals Brewing Co.
Here's a brief explainer of the beer you'll be taking home:
"Yankee White IPA is based on the Belgian Witbier style but with a New World hoppy twist! Yankee is hopped with 2 of the finest American aroma hops; Citra and Amarillo which give the beer big citrus and peach aroma. The citrus follows through in the flavour along with subtle spice from the Belgian yeast. The wheat malt gives the beer a soft body and the mouthfeel is light with a crisp and refreshing finish. Yankee White IPA has all the complex hop flavour of an IPA and is finely balanced with the bright flavour of a wheat beer!"
Don't forget to drink sensibly and study hard!
Now, how do I get my hands on a fake ID..