Make no minced-steak about it: Dundrum's about to get a great set of buns!
Was that headline a bit too "cheesy"? We could go on all day! Anyway, big news coming for Dundrum town centre! 
**UPDATE**
OPENING DATE CONFIRMED: Monday October 3rd 2016
It looks like the wait is almost over. Five Guys is almost here! The famous US burger chain – renowned for its free refills, hand-cut fries and mind-blowingly tasty standard double-burgers  – looks set to open this Autumn…maybe as soon as October!
Craft Digital caught a quick glimpse of the work inside and can confirm the signature red and white tiles are on the walls. You may be asking why Five Guys get a space in our blog with us concentrating on 'Craft Beer & Artisan Food'… a little phrase one the wall outside caught my eye which describes their burgers perfectly:
"The Willy Wonka of Burger Craft"
'What's all the fuss about?' I here you mutter!
Anyone that's been to the US will know the deal. Last time I had the pleasure of a Five Guys was back in 2013 in Miami during their week long music festival, and I've been craving one ever since. 3 Five Guys in one week says it all really. Since then, locations have been popping up all over the UK including London, Scotland, Wales and probably the nearest now in Northern Ireland. It's as if they were teasing us and denying the great people of this nation their unreal hand-cut fries which made me weep with happiness with every bite. Their bacon cheeseburger is incredible, coming tightly wrapped in some tin-foil akin to the already established Bunsen which wraps theirs in paper. The burger toppings are all free so you can get very adventurous. Unwrapped, its a cheesy mess but that's what makes it so special. Pick it up, close your eyes and let Five Guys take you on a mouthwatering burger journey! Oh… and you get to wash it all down with free re-fills of the finest selection of soda!
With the original location meant to be in Dublin's city centre last year, south-siders will rejoice at the fact that they've now chosen to open in Dundrum town centre. The location of the new outlet is outside in the food section on the upper level, so no need to waddle up or down the steps when you finish. Expect queues out the door when it opens this Autumn!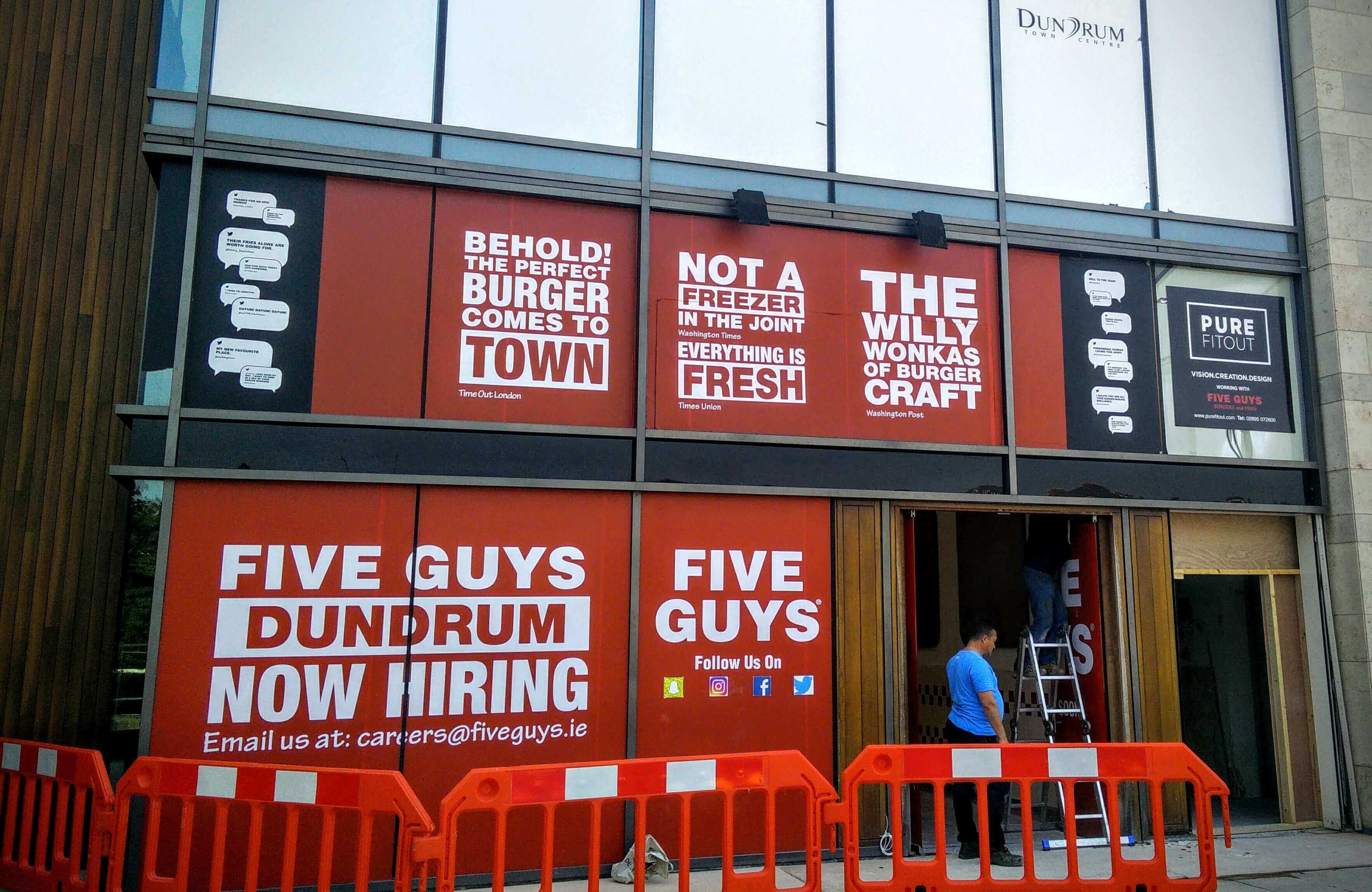 Here at Craft Digital we focus on digital marketing for the Craft Beer & Artisan Food Movement. Have a new restaurant, product or drink? We'd love to here about it! Are you a new start-up food or drinks company and need to get online? Why don't you drop us an email at info@craftdigital.ie or give us a call on 01-0831857255.