Keogh's Crispmas Flavour Is Stuffed With Taste – #FridayFinds
This week crispmania hit the office, and what better way to settle our Christmas munchies than with a packet of Keogh's Roast Turkey & Secret Stuffing crisps. Available only for this festive season we had to give this flavour a go and decide if this is truly the best way getting out of preparing the Christmas dinner, and if Keogh's really do have it in the bag?! HA!
Keogh's are Ireland's only hand cooked on the farm artisan potato crisps and rightly so! Being in the potato farming business for 200 years and in the crisping business since 2011 they have perfected the 'Crop to Crisp' formula to a crispy T.
So after sampling the crisps to understand the fascinating flavours of Christmas we immediately demolished the packet with little to no sharing. The sturdy crisp crunch is followed by the aromas of succulent roast turkey, and indeed it tastes like your big fancy turkey, while the secret stuffing is lovingly created using herbs and spices picked from the Keogh's family farmhouse garden.
For me, being a fanatic of all things potatoes it was very important that the strong spud taste was retained and not too overpowered by the abundance of flavors. Thankfully Keogh's came through and delivered a Christmas miracle, the most cheerful and jolly combination of flavours that Irish crisps have ever seen. Also I feel it is important to mention that the whole process of making and bagging Keogh's crisps takes about 15 minutes compared to 2-3 hours slaving in the kitchen over the turkey. I think the winner is clear!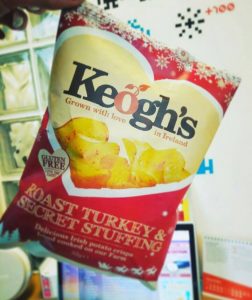 These festive crisps are gluten-free and free of MSG, and can be found all over Ireland including your local Supervalu, Tesco and Centra. Merry Crispmas!