It's 'Just Food'…but this one is award winning – #FridayFinds
Today's #fridayfinds is the 'Winter Minestrone Meal Soup' from Just Food Company. Not the cheapest 400g soup on offer but once I had a few spoonfuls I quickly realised why.
Established in 2004 by Deirdre Hilliard, she has gone from a stall in the Midleton Farmers Market, to a commercial kitchen in Cobh, Co. Cork. This by no means has meant a drop in quality as all products are still handmade in smaller batches to keep in all that taste and nutritional benefits. I picked up this little organic gem in SuperValu for €2.99.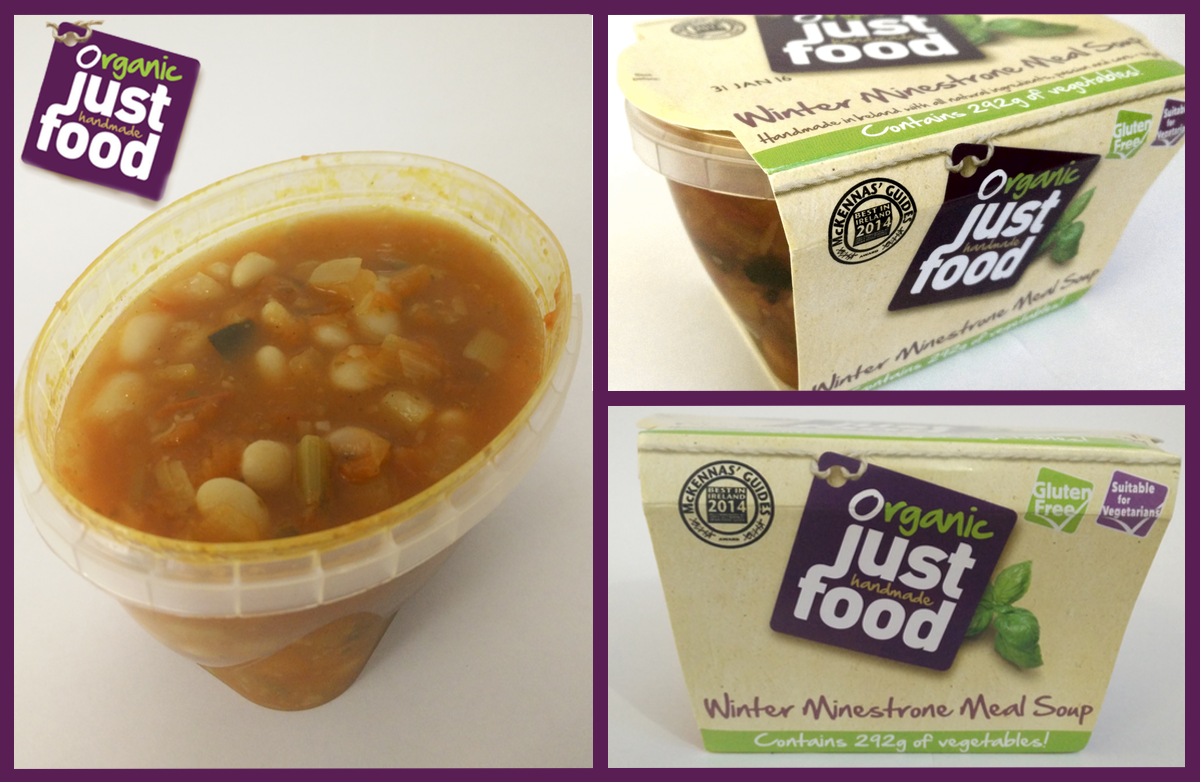 I'm not usually the biggest fan of buying off-the-shelf soups these days as most contain a ridiculous amount of salt, masking that industrial taste. To be honest, I expected the same with this, but after the first mouthful I immediately checked the nutritional information and my taste buds hadn't lied. That usual salty taste was almost non-existent and with only 0.5g of salt (per 100g), I've finally found a proper tasting soup within the 'Salty Soup' market. A traditional Italian minestrone soup usually contains pasta (carbs alert for those healthy readers), but they have cleverly replaced it with with protein rich and filling cannellini beans; With tomatoes, celery, leeks, and their own fresh basil pesto, this soup really will give you a lift on those fast approaching cooler winter days.
A simple but effective soup and with the beans it's surprisingly filling. The packaging is quite good and gives you a preview of what is inside. Oh, and forgot to mention that they've got a few awards too! This soup was the SILVER and BRONZE winner at Blas na hEireann National Irish Food Awards. With a long winter ahead, I'll certainly have to stock up with more of these! Brrrrrr….
For more information visit the Just Food website and they're are also on Facebook.
Nutritional Info (per 100g):
Energy 218kJ/52 kcal
Fat 1.8g (of which saturates 0.3g)
Carbohydrates 6.1g (of which sugars 2.4g)
Protein 2.9g
Salt 0.5g
Fibre 2.3g