Doughnut miss out on these delicious gems at Eatyard – #FridayFinds
Step into Eatyard, a brand new food market space that is bringing us a unique casual dining experience right in the heart of Dublin (or next to The Bernard Shaw for you and me). This new project is brought to us by the same guys from Bodytonic who are also in charge of Beatyard Festival and The Big Grill. It's fair to say they know a thing or two when it comes to supplying us with the most innovative and creative food and drinks in the most atmospheric manner!
So without further ado I present to you my most scrumptious #FridayFinds at Eatyard: the delightfully Loaded Sugar Doughnut with Maltesers, Fudge and Brownies all smeared with raspberry sauce. Inhaled that!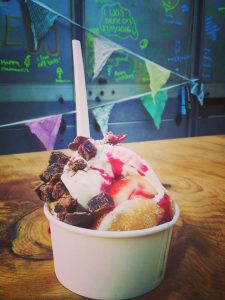 Handcrafted using only the finest ingredients this delicious dessert fixed my midday sugar cravings and I doughnut regret any of it! I mean the humble doughnut is no more where you were offered standard jam and boring icing. The Dublin Doughnut Co. infuse their fresh doughnuts with cheesecake, snickers, honeycomb, and kinder bueno just to name a few flavours. Evidently it's no snaccident they are equipped with the most courageous and exciting filings as Hilary Quinn, the founder of Dublin Doughnut Co. it up "The limit is your imagination. Like if somebody really likes something then it can go in the doughnut, no problem".
So get yourself down here to Eatyard located on 9-10 South Richmond St, right beside The Bernard Shaw, open Thursday, Friday, Saturday & Sunday 12 noon and last food orders at 8pm. You can also find Dublin Doughnut Co. at 147deli, Vice Coffee Inc, Camerino Bakery and Dublin Barista School, just so you know.
Now, which Eatyard eatery is next.. any suggestions?