CoCu: my healthy January obsession – #FridayFinds
Welcome to 2017 everybody! A little late than usual but it only means that we have been making the most of what January has to offer. After a festive month of extreme indulgence, loving ourselves, and everyone else, we have taken the time to consider what it means to be healthy and well.
It is typical to think that a season of indulgence must strictly be followed by a season of deprivation. Ha! How would you explain the Kardashians? There is no life rule that states that January must be miserable so a new approach is in the works.
This week, in my quest of healthy, and still seeking for that feeling of ultimate indulgence, I came across CoCu: A Healthy Obsession located on Chatham Street.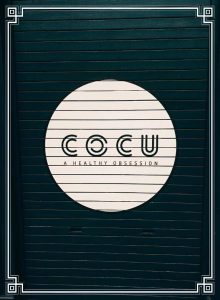 The main focus behind this warm and welcoming establishment is Quality, Simplicity, and Creativity. Emphasis has been put on preparing all the dishes on site using the finest local and seasonal ingredients while making nutritionally balanced meals.
Having just missed out on the breakfast option (given it was lunchtime) I went for Middle Eastern chicken, roasted red peppers, smashed avocado, and feta on the side with Sumac dressing, all held together by roasted sweet potato and baby spinach base, and topped off with toasted almonds and cashews. Well that's just the tastiest mouthful of a sentence ever! Love of good food and a need to eat well on the go, call this place a home.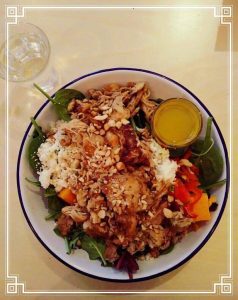 Honestly I did not expect to be so pleasantly surprised given the unprecedented splurge of health conscious food movements going around Dublin for the past forever it seems. And I'm never really pushed to try different healthy food concepts as I'm more of a dough-kinda-gal, whether it comes in the shape of pizza or panini doesn't really matter. However CoCu's thoughtfully designed menu caters for all kinds of taste buds whether you're looking for a supercharged bowl of signature porridge to kick start your day, or more relaxed build-your-own 'Cocu Box' with solid base of brown rice, baby spinach or roasted sweet potatoes all topped up with baked salmon, chicken, beef or pork, you can feel at ease knowing that your preference is their top priority.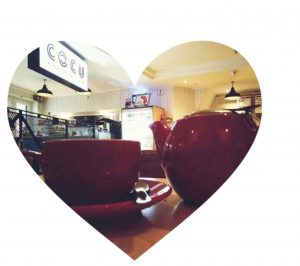 So if you are struggling to keep your new year's resolutions (mind you it's the middle of January chances are you have failed and happily won't look back) try and shift the focus from 'treat yo'self to love yo'self' mind frame by incorporating soul food inspired Cocu into your diets.