I can't Fathom how they did it.. #FridayFinds
Last week we were lucky enough to be invited along to the launch of this year's batch of Two Hundred Fathoms: a collaboration Imperial Stout brewed by Galway Bay Brewery and aged in Teeling Whiskey barrels. Even the description of it sounds impressive! The launch took place in one of GBB's most recent ventures The Gasworks in Grand Canal, Dublin 4. This is one of the brewery's biggest (if not THE biggest) pubs they've got so far, and was the perfect setting for such an event – think a few hundred beer geeks, big impressive wall designs and a custom pool table to fight over.
This is the third year that GBB have released this small batch delight and it doesn't disappoint. Coming in at 10% ABV, this stout is big, bad and full of flavour. It might be a little intense for those not familiar with stronger beers, but for those who like a little extra kick, it's right on the mark. In regards to the flavours, you get hit with a combination of coffee, chocolate and full bodied whiskey. I even got a hint of caramel in there too. A friend commented saying it reminded them of a Christmas pudding. It's definitely more of a treat than having a few in one sitting. Let's just say the bar was flying after 2 bottles!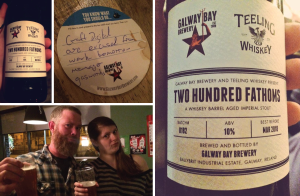 So what makes it so special? According to the guys over at Teelings "On the brewday, a rich and complex malt bill comprising of 8 different malts [are] carefully chosen to sit perfectly with the delicate and decadent nuances to which the beer meets in the barrel.". Yep, sounds about right.
And what's with the name? Well Two Hundred Fathoms is named after Hemingway's 'Old Man and the Sea', a story outlining an 85-day wait and a gruelling 3-day battle for an old man to catch a great Marlin. I just hope the brewing process wasn't as gruelling as that. Worth it all the same though!
If you can get your hands on a bottle I'd highly recommend trying it even if it doesn't sound like your usual tipple. However since it's such a small batch, it won't be too easy to find. Maybe that's why the name is inspired by Hemingway after all!